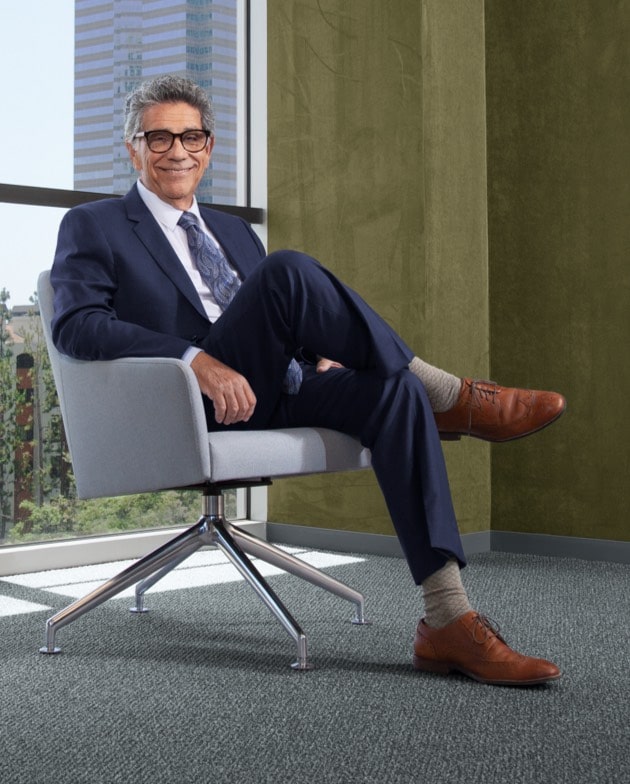 Hon. Roy L. Paul (Ret.)
Mediator | Arbitrator | Judge Pro Tem | Discovery Referee
"I close cases that many attorneys tell me they have very little hope to resolve. Through trust and persuasion, I am able to work with what may be difficult personalities to settle. My service in the military, politics, and 30 years as a judicial officer has given me vast exposure to a variety of law and facts that developed my unique ability to quickly grasp complex disputes and creatively find solutions."
Practice Areas
Business and Commercial Contracts
Employment
Family Law
Intellectual Property
Legal Malpractice
Medical Malpractice
Personal Injury
Probate, Trust & Estates
Wrongful Death
Education
Civil Mediation Certificate, The National Judicial College
J.D., Thomas Jefferson School of Law (formerly Western State University)
B.A., University of Southern California
Biography
Judge Roy Paul served as a judicial officer for over 27 years, including 17 years on the Los Angeles County Superior Court, where he oversaw probate, family law, admiralty, personal injury, and civil litigation matters. Over his decades of service on the bench, Judge Paul has earned a reputation for his diligence, preparation, compassion, and ability to work with all parties to achieve positive outcomes in bitterly contested disputes. 
 
While presiding over family law matters, Judge Paul developed mutually beneficial solutions in a wide range of matters involving custody, visitation, property distribution, and support. Seeing a need for change in California's family law code, Judge Paul was instrumental in formulating and advocating for the enactment of Family Code 3401.5, a California state law provision that gives family court judges the authority to order parents requesting child custody or visitation rights to undergo drug or alcohol testing, when deemed appropriate. 
 
Judge Paul also presided over complex probate litigation, where he resolved matters involving elder abuse and undue influence allegations, breach of fiduciary duty disputes, challenging conservatorship and guardianship issues, and disputes relating to wills and trusts proceedings. 
 
As the only judge presiding over the Los Angeles Superior Court Beacon Street Annex in San Pedro, Judge Paul oversaw numerous admiralty and maritime lawsuits, including those involving the Jones Act, the Longshore Act, cargo, railroads, port operations, trucking, and death at high seas.  
 
Before joining the bench, Judge Paul served clients as a solo practitioner, working across a spectrum of practice areas since being admitted to practice in California in 1978. 
 
Judge Paul also served in the Navy, was a city councilman and mayor in two different Southern California cities, elected to Mayor of Bell Gardens in 1983 and Mayor of Downey in 1990. He has also served on the California Board of Behavioral Science Examiners and the Consumer Affairs Bureau of Collection & Investigative Services. 
Experience
Judge, The Superior Court of California, County of Los Angeles (2000–2018)
Presiding Judge, Downey Municipal Court (1996)
Judge, Downey Municipal Court (1994–2000)
Court Commissioner, Downey Municipal Court, (1991–1994)
Attorney, Roy Paul, Esq. (1978–1991)
Lieutenant Commander (Ret.), Navy/Naval Reserve (1971–1994)
Mayor and City Councilman, City of Downey (1986–1991)
Mayor and City Councilman, City of Bell Gardens (1980–1984)
Professional Achievements and Memberships
Trial Judge of the Year, Consumer Attorneys Association of Los Angeles (2015)
Justice Sandy Lucas Judicial Award of the Year, Long Beach Bar Association (2011)
Executive Committee, The Superior Court of California, County of Los Angeles (2007–2008)
Judicial Leadership Award, Association for Los Angeles Deputy Sheriffs (2006)
Judges Award, American Academy of Matrimonial Attorneys (2002)
Judge of the Year, Southeast Bar Association (2001)
Navy Achievement Medal, Department of the Navy (1994)
Airborne Gold Parachute Wings, Department of the Navy (1975)
Vietnam Service Medal (1971)