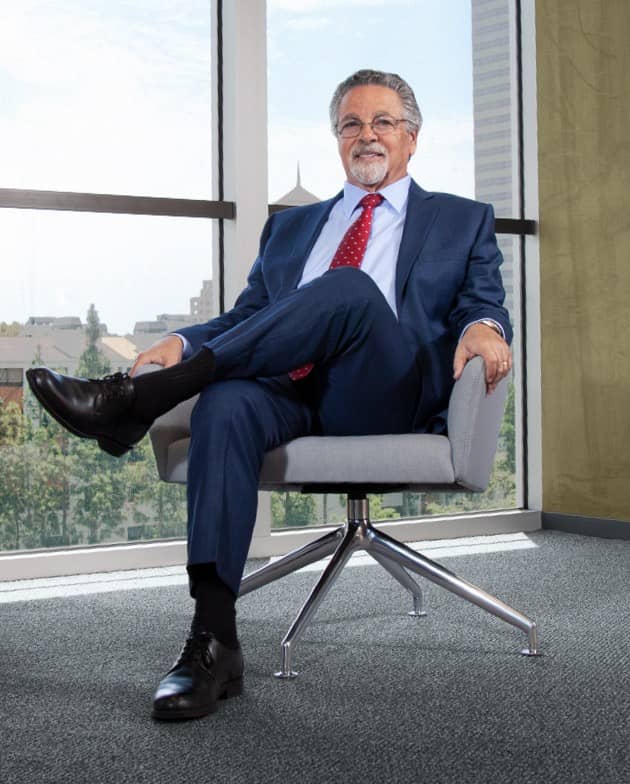 Hon. James A. Steele (Ret.)
Mediator | Arbitrator | Judicial & Discovery Referee
"What I bring to those with cases at Signature Resolution is a unique perspective based on an unusually diverse legal career. Since 2014, having assisted parties as a neutral in over 1,500 disputes covering multiple areas of the law, my ability to navigate the technicalities of complex subject matter and creatively find solutions is what I believe to have been the key to my achieving considerable success on behalf of our clients."
Practice Areas
Business and Commercial Contracts
Construction
Elder Abuse
Insurance
Landlord/Tenant
Legal Malpractice
Probate, Trust & Estates
Real Estate
Trust & Estates
Education
Diploma in Tax Law, University of San Diego School of Law
M.B.A. (Real Estate), University of Southern California
J.D., California Western School of Law
B.A., San Diego State University
Biography
Judge Steele has 35-plus years of legal experience as a transactional lawyer, trial lawyer, in-house counsel for both public and private companies, and Los Angeles Superior Court Judge. He serves as a mediator, arbitrator, judicial trial and discovery referee, and special master. In his first five years as a neutral, Judge Steele oversaw in excess of 1,200 disputes, totaling well in excess of $2 billion in controversy. He is regularly called upon to mediate complex, multi-party disputes throughout the United States and most recently, has conducted numerous mediations and evidentiary hearings by videoconference (Zoom).
Judge Steele is highly regarded for his ability to quickly grasp highly complex and technical areas of law and fact, as well as his ability to effectively communicate those complexities to others. With his unique blend of in-house counsel, private law practice, judicial experience, and even having served as a trial juror through verdict while he was a sitting judge, Judge Steele has developed a practical and creative approach to resolving disputes. Judge Steele also recognizes the critical role counsel play in the process, and he works closely with them and their clients on a collaborative basis.
At the time of his retirement from the Los Angeles Superior Court in late 2014, after having served on the Court's Executive Committee and in various assignments including presiding over an IC (general jurisdiction) courtroom, he was one of the probate division's most respected trial judges. He was also the architect and Committee Chair of the court's highly successful Central District Probate Settlement Program, which continues in operation to the present, serving the public and the legal community. Judge Steele was honored by the Bar Association with its Administration of Justice Award for his work in developing this program.
Prior to his appointment to the bench, Judge Steele was employed by major private and publicly held corporations as in-house staff counsel and assistant general counsel before rising to the position of general counsel. He joined a Century City-based law firm and later established his own firm handling financial, real estate, construction, automobile dealership, and general corporate law matters.
Judge Steele is also a much sought-after speaker by bar associations, corporate law departments, and other organizations. His speaking engagements have included the West Coast Casualty Conference, the USC Trusts & Estates Conference, various Los Angeles County Bar Association sponsored events, and AOC and JES Continuing Education programs for judicial officers, as well as many of The Rutter Group programs.
Experience
Neutral, ADR Services, Inc. (2014–2017)
Judge, Superior Court of California, County of Los Angeles (2007–2014)
Founding Attorney, Steele & Persoff (1989–2007)
Of Counsel, Rosen, Wachtell & Gilbert (1988–1990)
Staff Attorney, Assistant General Counsel, General Counsel, In-House Corporate Law Departments (1977–1988)
Professional Achievements and Memberships
Author, The Rutter Group's Construction Law Program
Lecturer, UCLA Construction Law & Management
Lecturer, USC Construction Law & Management
Panelist, American Bar Association 2019 Mid-Winter Construction Law Forum—"Legal Writing Practicum for Construction Lawyers"
Moderator/Panelist, West Coast Casualty Construction Defects Seminar—"Courtroom Trials, Arbitrations & Judicial References: The Good, the Bad & the Ugly"
Panelist, USC Trusts & Estates Conference, Mastering the Art of Mediation— "Tax Advantaged Settlement Strategies" (2016)
Panelist, The Rutter Group (Thomson Reuters), Recent Developments and Cases in Probate Law (2015)
Developer, Author, Moderator and Lead Panelist, The Rutter Group (Thomson Reuters), Construction Law (2014)
Faculty Member, CJER Probate Institute—"Fiduciary Investing" and "Attorneys' Fees in Probate" (2013)
Panelist, LACBA Trusts & Estates Symposium: Legal Perspectives on Fiduciary Investment and the Economics of Marriage—"Were the Trustee's Investments Prudent?" (2013)
Panelist, LACBA—"Cross-Over Issues Probate/Family Law" (2012)
Faculty Member, CJER Probate Institute—"Fiduciary Investment 101" (2011)
Panelist, LASC Civil Bench Seminar—"Financial Information: Managing Discovery and Evidentiary Issues" (2010)
Faculty, UCLA Construction Management Program—Construction Law (MCLE qualified) (1989–2009)