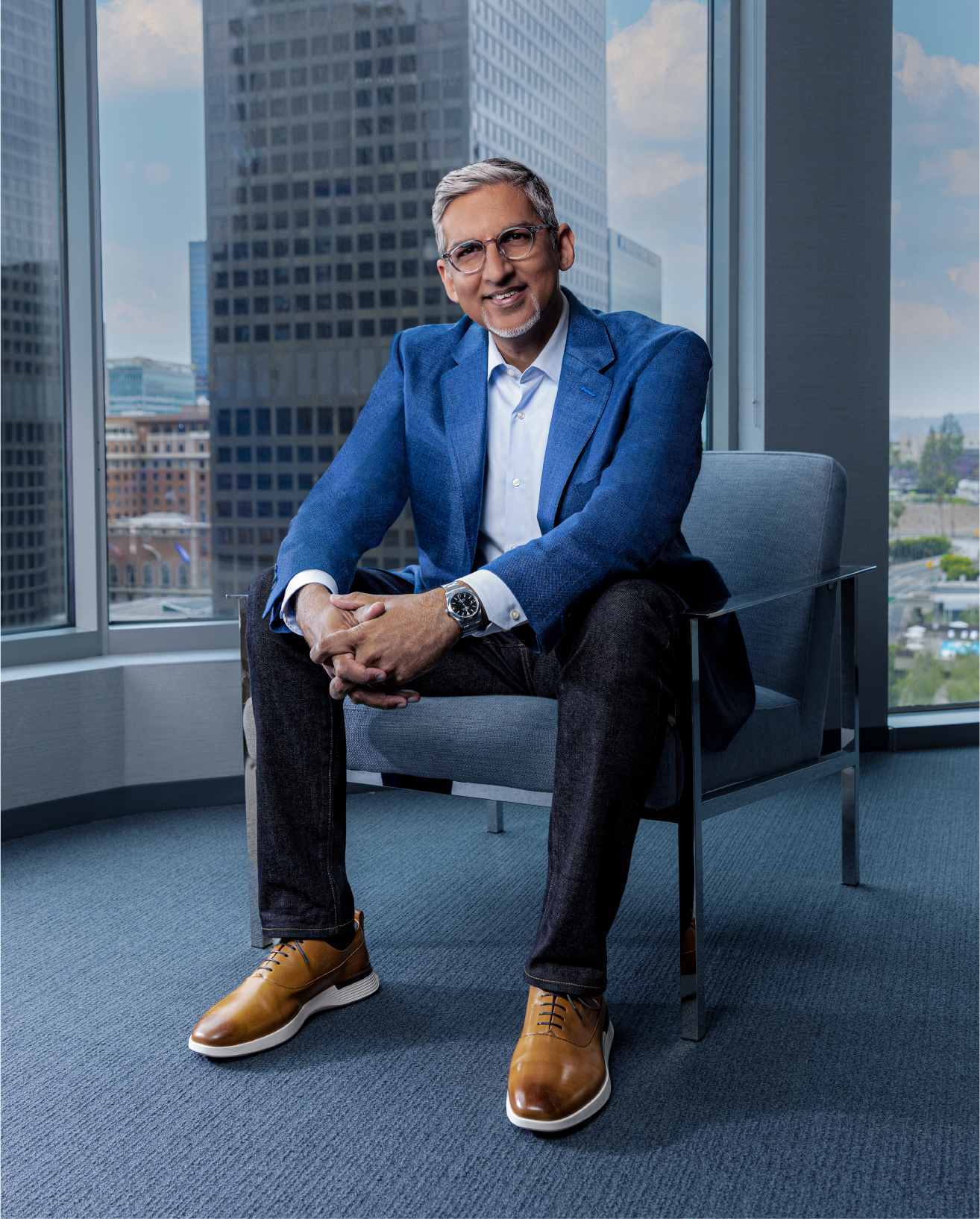 Century City | Los Angeles | Oakland | San Diego | Virtual Services
Hon. Halim Dhanidina (Ret.)
Mediator | Arbitrator | Appellate Consultant
"As a justice, I was dedicated to providing proper guardrails for the trial court through various decisions and rulings in order to help judges exercise appropriate discretion for all parties. I believe a successful neutral must be sensitive to the needs and goals of everyone involved and I look forward to bringing this philosophy into my new role at Signature Resolution."
Practice Areas
Appellate
Business and Commercial Contracts
Class Action
Constitutional Challenges
Employment
Insurance
Labor
Personal Injury
Professional Liability
Professional Malpractice
Education
Certificate in Corporate Governance

; University of California, Los Angeles Anderson School of Management  

​

J.D.,

 University of California, Los Angeles School of Law 

​

B.A., International Relations

; Pomona College 
Biography
The Honorable Halim Dhanidina (Ret.) brings more than 25 years of legal experience to Signature Resolution. With his background as a lawyer, Superior Court judge, and Court of Appeal justice, he offers impartiality and perceptiveness as a neutral party.  ​
Justice Dhanidina is no stranger to challenges and credits his success to his unique career overseeing different facets of the trial process. His experience as a lawyer, coupled with his nine years in the California Second District Court of Appeal and Los Angeles County Superior Court, has broadened his perspective of the legal system and deepened his understanding of each role's distinct challenges.  ​
Justice Dhanidina got his start with the Los Angeles County District Attorney's office, continuously moving up throughout his tenure. Through his work, he dealt directly with those most impacted by the criminal justice system, contributing to his comprehensive understanding of the court system and the communities most affected by it.  ​
In 2012, Justice Dhanidina was the first Muslim superior court judge appointed in the State of California and enjoyed being back in the courtroom to ensure fair trials. During this time, he presided over multiple notable cases that significantly impacted both his career and those affected by the verdict, including the case of People v. Moroney, in which he performed an in-depth exploration into alleged discriminatory patterns by the Long Beach Police Department against LGBTQIA+ residents in Long Beach. ​
After nearly six years as a superior court judge, Justice Dhanidina became the first South Asian justice in California and the first Muslim Court of Appeal justice in the U.S. Most of his time was dedicated to research, reviewing case briefs, writing opinions, and discussing case matters with panelists. There he gained great respect from his colleagues on the trial court, having reviewed nearly 1,000 appeals spanning various disciplines, including family, employment, business litigation, and probate. Additionally, Justice Dhanidina had the opportunity to bring a contemporary perspective to cases where the authority in place was based on antiquated judgments. ​
Justice Dhanidina believes a successful neutral must possess the ability to be sensitive to the needs and goals of everyone involved to run a fair and effective courtroom, prioritizing listening over speaking to better understand the motivations and intentions of both sides. His extensive experience teaching trial practice at the University of California, Los Angeles, University of California Irvine, and Chapman University law schools furthers his credibility as a reputable mediator who understands the ins and outs of trial court and successfully resolving issues. Moreover, Justice Dhanidina was one of five alumni judges selected for the University of California, Los Angeles Law School's list of 70 trailblazing alumni to commemorate its 70th anniversary in 2019. As a neutral at Signature Resolution, Justice Dhanidina aims to bring an engaged mediation style based on having discussions before and after depositions to ensure parties are heard, understood and receive a fair resolution. 
Several of Justice Dhanidina's published and unpublished Court of Appeal decision cases be viewed below, displaying his experience across a few different practice areas.
Rosas v. Kensington Caterers Inc. (3/25/2019 2019 WL 1349476)
MacDonald v. Singer (1/23/2018 2018 WL 507819)
Hollywood Sky Entertainment, Inc. v. Boger (1/25/2018 2018 WL 549852)
Lipscomb v. Girardi (3/1/2018 2018 WL 1127686)
De Havilland v. FX Networks, LLC (3/26/2018 21 Cal.App.5th 845)
Petersons v. Cooper (4/19/2018 2018 WL 1870723)
Caswell v. Jamgotchian (4/24/2018 2018 WL 1939780)
Khodagulyan v. Aminpour (9/6/2018 2018 WL 4275351)
DeMartini v. Blotzer (11/8/2018 2018 WL 5835345)
Bag Fund, LLC v. Sand Canyon Corporation (11/28/2018 2018 WL 6191020)
Canico Capital Group, LLC v. Hassid (12/12/2018 2018 WL 6521850)
MetLife Securities, Inc. v. Brandt (12/18/2018 2018 WL 6616097)
St. John's Emergency Physicians, Inc. v. RevCycle+, Inc. (12/26/2018 2018 WL 6787332)
Icon Digital Corporation v. Icon International Digital Limited (4/10/2019 2019 WL 1552367)
The November First Partnership v. Islam (4/26/2019 2019 WL 1873279)
Mostafavi v. Serratos (5/28/2019 2019 WL 2265347)
JFK Investment Group, LLC v. Kobi (5/31/2019 2019 WL 2315203)
Awani v. Nationstar Mortgage LLC (6/25/2019 2019 WL 2591022)
Sealutions, LLC v. Schwab (6/25/2019 2019 WL 2591024)
Sun v. Chang (7/22/2019 2019 WL 3282956)
Sun v. Chang II (7/22/2019 2019 WL 3282985)
Mitsuwa Corporation v. Wehba (8/6/2019 2019 WL 3561928)
Anabi Oil Corporation v. Highland Park Oil, Inc. (8/15/2019 2019 WL 3822002)
Linkage Financial Group, Inc. v. Sylvia Hu (8/20/2019 2019 WL 3928745)
Goldstein v. D'Arca (9/10/2019 2019 WL 4267762)
Genesis Media, LLC v. Ownzones Media Network, Inc. (9/10/2019 2019 WL 4267837)
Rusnak/South Bay, LLC v. Glukel Group, LLC (9/27/2019 2019 WL 4727589)
Leung v. Leung (10/30/2019 2019 WL 5587257)
Ulkarim v. Westfield, LLC (11/22/2019 2019 WL 6242472)
Tesoro Refining & Marketing Co. LLC v. Los Angeles Regional Water Quality Control Board (11/22/2019 42 Cal.App.5th 453)
Richie v. Kassan (11/25/2019 2019 WL 6270416)
Adams v. Topolewski (12/30/2019 2019 WL 7290543)
MacDonald v. Kempinsky (1/24/2020 2020 WL 401603)
Maggiore v. Vandenhende (2/5/2020 2020 WL 563335)
California Lawyers Group LLP v. McNulty (2/27/2020 2020 WL 948342)
Albert v. Boger (4/3/2020 2020 WL 1671411)
American/BCEGZ v. Shores, LLC (4/30/2020 2020 WL 2110265)
Madadian v. Maserati North America, Inc.(5/26/2020 2020 WL 2709620)
Lane v. Mura-Smith (6/23/2020 2020 WL 3424816)
Bechard v. Broidy (6/24/2020 2020 WL 3459390)
Setareh v. Elyaszadeh (6/25/2020 2020 WL 3467840)
The Little Cottage Caregivers v. Meiri (8/21/2020 2020 WL 4915447)
Flannery v. Murray (8/24/2020 2020 WL 4931702)
Jones v. City of Los Angeles (5/17/2018 2018 WL 2252543)
B.B. v. County of Los Angeles (7/10/2018 25 Cal.App.5th 115)
Mason v. Lancaster Hospital Corporation (7/18/2018 2018 WL 3454731)
Omidi v. Schunke (11/27/2018 2018 WL 6178195)
Omidi v. National Resident Matching Program (11/27/2018 2018 WL 6178016)
Whittingham v. City of Los Angeles (12/7/2018 2018 WL 6427635)
Thompson v. People Coordinated Services of Southern California, Inc. (12/10/2018 2018 WL 6444381)
Hanna v. City of Long Beach (12/17/2018 2018 WL 6599570)
Rubalcaba v. Albertson's LLC (3/29/2019 2019 WL 1417158)
Tripi v. Make-Up Artists & Hair Stylists Guild (5/9/2019 2019 WL 2052116)
Pullara v. Burchett (5/16/2019 2019 WL 2136115)
Crespin v. Crimson Pipeline, LP (8/19/2019 2019 WL 3886907)
Shah v. County of Los Angeles (8/22/2019 2019 WL 3955863)
Barrus v. Henkel Corporation (1/6/2020 2020 WL 61816)
Hicks v. Board of Trustees of the California State University (3/23/2020 2020 WL 1329389)
California Gun Rights Foundation v. Superior Court (5/29/2020 49 Cal.App.5th 777)
AIDS Healthcare Foundation v. City of Los Angeles (6/15/2020 50 Cal.App.5th 672)
Ramos v. Total-Western, Inc. (3/18/2020 2020 WL 1283099)
MacDonald v. Arazm (1/4/2018 2018 WL 286354)
Craighead v. Midway Rent A Car, Inc. (1/12/2018 2018 WL 387849)
Office of City Attorney v. Spindler (3/7/2018 2018 WL 1180277)
Jones v. City of Los Angeles (5/17/2018 2018 WL 2252543)
Aranda v. County of Los Angeles (5/31/2018 2018 WL 2439877)
Mason v. Lancaster Hospital Corporation (7/18/2018 2018 WL 3454731)
O'Brien v. Sajahtera, Inc. (11/20/2018 2018 WL 6064839)
Del Rosario Martinez v. Ready Pac Produce, Inc. (11/20/2018 2018 WL 6064948)
Omidi v. Schunke (11/27/2018 2018 WL 6178195)
Omidi v. National Resident Matching Program (11/27/2018 2018 WL 6178016)
Whittingham v. City of Los Angeles (12/7/2018 2018 WL 6427635)
Thompson v. People Coordinated Services of Southern California, Inc. (12/10/2018 2018 WL 6444381)
Hanna v. City of Long Beach (12/17/2018 2018 WL 6599570)
Kensington Caterers, Inc. v. Iwuchuku (3/26/2019 2019 WL 1349474)
Rubalcaba v. Albertson's LLC (3/29/2019 2019 WL 1417158)
Powell v. County of Los Angeles (5/9/2019 2019 WL 2052130)
Crespin v. Crimson Pipeline, LP (8/19/2019 2019 WL 3886907)
Shah v. County of Los Angeles (8/22/2019 2019 WL 3955863)
Ramos v. Total-Western, Inc. (3/18/2020 2020 WL 1283099)
Gonzalez v. City of Los Angeles (12/3/2019 42 Cal.App.5th 1034)
Barrus v. Henkel Corporation (1/6/2020 2020 WL 61816)
Ramos v. Total-Western, Inc. (3/18/2020 2020 WL 1283099)
Albarracin v. Fidelity National Financial, Inc. (8/13/2020 2020 WL 4691740)
Batchelder v. Smith (8/20/2018 2018 WL 3968888)
Ting v. Chang (11/13/2018 2018 WL 5918943)
Stokes v. Baker (5/30/2019 35 Cal.App.5th 946)
Evans v. Ivie (7/25/2019 2019 WL 3335169)
Berlin v. Johnson (10/16/2019 2019 WL 5204252)
3123 SMB LLC v. Horn (11/22/2019 2019 WL 6242511)
Kolodny v. Wondries (11/25/2019 2019 WL 6271229)
Berlin v. Johnson II (12/10/2019 2019 WL 6711407)
Pezeshki v. Sheahen (2/5/2020 2020 WL 563339)
California Lawyers Group LLP v. McNulty (2/27/2020 2020 WL 948342)
Ramirez v. Javahery (5/15/2020 2020 WL 2505702)
Bechard v. Broidy (6/24/2020 2020 WL 3459390)
Mireskandari v. Marks & Sokolov (8/24/2020 2020 WL 4932206)
Lipscomb v. Girardi (3/1/2018 2018 WL 1127686)
Bank of New York Mellon v. Nazaryan (4/11/2018 2018 WL 1736622)
Khodagulyan v. Aminpour (9/6/2018 2018 WL 4275351)
Jackson v. America's Servicing Company (9/19/2018 2018 WL 4474667)
PNG Investments, Inc. v. RG Real Estate Investments (11/20/2018 2018 WL 6064838)
Bag Fund, LLC v. Sand Canyon Corporation (11/28/2018 2018 WL 6191020)
Garau v. Nationstar Mortgage, LLC (12/12/2018 2018 WL 6521899)
Garza-Wiesand v. Garza (1/17/2019 2019 WL 257858)
Selective 901 Truman, LLC v. Goodrich & Hops Properties West (1/22/2019 2019 WL 275832)
MELR, Inc. v. San Fernando Road Property (1/29/2019 2019 WL 350816)
Smith v. IH4 Property West, LP (3/29/2019 2019 WL 1417157)
JFK Investment Group, LLC v. Kobi (5/31/2019 2019 WL 2315203)
Cooley v. W. Lakeside Homes, LLC (6/19/2019 2019 WL 2521979)
Awani v. Nationstar Mortgage LLC (6/25/2019 2019 WL 2591022)
Momoli v. Wells Fargo Bank, N.A. (7/9/2019 2019 WL 2950157)
Sun v. Chang II (7/22/2019 2019 WL 3282985)
Moore v. Lerner (7/23/2019 2019 WL 3297146)
Mitsuwa Corporation v. Wehba (8/6/2019 2019 WL 3561928)
Friends of Griffith Park v. City of Los Angeles (9/19/2019 2019 WL 4509209)
Dhiman v. Dhiman (10/23/2019 2019 WL 5410099)
Ulkarim v. Westfield, LLC (11/22/2019 2019 WL 6242472)
Ustach v. Lim (2/14/2020 2020 WL 746878)
American/BCEGZ v. Shores, LLC (4/30/2020 2020 WL 2110265)
WFG National Title Insurance Company v. Wells Fargo Bank, N.A. (6/12/2020 51 Cal.App.5th 881)
AIDS Healthcare Foundation v. City of Los Angeles (6/15/2020 50 Cal.App.5th 672)
Gonzalez v. Lew (2/1/2018 20 Cal.App.5th 155)
Delgadillo v. Television Center, Inc. (2/2/2018 20 Cal.App.5th 1078)
Petersons v. Cooper (4/19/2018 2018 WL 1870723)
B.B. v. County of Los Angeles (7/10/2018 25 Cal.App.5th 115)
Batchelder v. Smith (8/20/2018 2018 WL 3968888)
Jackson v. America's Servicing Company (9/19/2018 2018 WL 4474667)
Kivorkian v. Star Insurance Company (10/26/2018 2018 WL 5306921)
Geselowitz v. Allstate Insurance Company (11/9/2018 2018 WL 5861556)
Omidi v. Schunke (11/27/2018 2018 WL 6178195)
Omidi v. National Resident Matching Program (11/27/2018 2018 WL 6178016)
Marte v. County of Los Angeles (3/25/2019 2019 WL 1325035)
Kensington Caterers, Inc. v. Iwuchuku (3/26/2019 2019 WL 1349474)
Deleon v. Fregoso (3/28/2019 2019 WL 1396734)
The November First Partnership v. Islam (4/26/2019 2019 WL 1873279)
Kevorkian v. Hastings (4/30/2019 2019 WL 1922932)
Pullara v. Burchett (5/16/2019 2019 WL 2136115)
Stokes v. Baker (5/30/2019 35 Cal.App.5th 946)
Gallegos v. Tesoro Sierra Properties, LLC (6/19/2019 2019 WL 2521712)
Pereida v. Doljenko (6/20/2019 2019 WL 2537692)
Sealutions, LLC v. Schwab (6/25/2019 2019 WL 2591024)
Ulloa v. Gonzalez (7/11/2019 2019 WL 3026850)
Louise v. Howard Jarvis Taxpayers Association (7/15/2019 2019 WL 3162133)
Castellon v. San Fernando Police Officers Association (7/18/2019 2019 WL 3228955)
Sun v. Chang (7/22/2019 2019 WL 3282956)
Sun v. Chang II (7/22/2019 2019 WL 3282985)
Moore v. Lerner (7/23/2019 2019 WL 3297146)
Ash v. Pick (9/25/2019 2019 WL 4667999)
Koerber v. Project Veritas (9/26/2019 2019 WL 4686622)
Shorter v. Ralphs Grocery Company (10/3/2019 2019 WL 4879016)
Berlin v. Johnson (10/16/2019 2019 WL 5204252)
Simoni v. Swan (10/25/2019 2019 WL 5485209)
Leung v. Leung (10/30/2019 2019 WL 5587257)
Chapman v. Hardway (11/7/2019 2019 WL 5799599)
Tesoro Refining & Marketing Co. LLC v. Los Angeles Regional Water Quality Control Board (11/22/2019 42 Cal.App.5th 453)
Blas v. U.S. Sports Camps, Inc. (11/22/2019 2019 WL 6242469)
Richie v. Kassan (11/25/2019 2019 WL 6270416)
Berlin v. Johnson II (12/10/2019 2019 WL 6711407)
Koerber v. Project Veritas II (1/7/2020 2020 WL 64022)
Kevorkian v. Hastings II (1/23/2020 2020 WL 373039)
MacDonald v. Kempinsky (1/24/2020 2020 WL 401603)
Maggiore v. Vandenhende (2/5/2020 2020 WL 563335)
California Lawyers Group LLP v. McNulty (2/27/2020 2020 WL 948342)
Fontana v. Thomas (4/9/2020 2020 WL 1809210)
Ramirez v. Javahery (5/15/2020 2020 WL 2505702)
Hanouchian v. Steele (6/4/2020 51 Cal.App.5th 99)
Sojai v. Solomon (7/13/2020 2020 WL 3957208)
Nelson v. Holguin (7/28/2020 2020 WL 4332858)
Albarracin v. Fidelity National Financial, Inc. (8/13/2020 2020 WL 4691740)
O'Brien v. Sajahtera, Inc. (11/20/2018 2018 WL 6064839)
Del Rosario Martinez v. Ready Pac Produce, Inc. (11/20/2018 2018 WL 6064948)
Oliveros v. Lee (1/18/2019 2019 WL 258108)
Ward v. Tilly's, Inc. (2/4/2019 31 Cal.App.5th 1167)
Yan v. TTS (USA) Traveling Co. Ltd. (3/8/2019 2019 WL 1089957)
Kensington Caterers, Inc. v. Iwuchuku (3/26/2019 2019 WL 1349474)
Mostafavi v. Serratos (5/28/2019 2019 WL 2265347)
Gonzalez v. Lucky Seven Dragons, Inc. (6/19/2019 2019 WL 2521904)
Rodriguez v. Lawrence Equipment, Inc. (2/26/2020 2020 WL 913807)
McPherson v. EF Intercultural Foundation, Inc. (4/1/2020 47 Cal.App.5th 243)
Port Medical Wellness, Inc. v. Connecticut General Life Insurance Company (5/10/2018 24 Cal.App.5th 153)
Kivorkian v. Star Insurance Company (10/26/2018 2018 WL 5306921)
Barnes v. State Compensation Insurance Fund (11/19/2019 2019 WL 6167135)
Experience
Partner, Werksman Jackson & Quinn (2022-2023) ​
Partner, Umberg/Zipser LLP, Partner (2021-2022) ​
Associate Justice, Second District Court of Appeal, Los Angeles (2018-2021)​
Judge, Los Angeles County Superior Court (2012-2018) ​
Deputy DA, Los Angeles County District Attorney (1998-2012)
Professional Achievements and Memberships
Advisory Board Member, Asian Pacific American Bar Association (2008-Present) ​
Advisory Board Member, South Asian Bar Association (2009-Present)​
Orange County Advisory Council Member, Asian Americans Advancing Justice (2016-Present)​
Member,

 LACBA Litigation Section (2019-Present)

​
AWARDS AND HONORS  ​
Senator Daniel K. Inouye Trailblazer Award, National Asian Pacific American Bar Association (2017)​

Received special recognition at hearing on House Resolution 43 in honor of Muslim American Appreciation and Awareness Month at the California State Assembly (2017) 

​
Trailblazer Award, South Asian Bar Association Foundation (2016) ​
Trailblazer in Justice Award, Muslim Legal Fund of America (2014) ​
Community Leadership Award, Muslim Public Affairs Council Foundation (2013)​
Asian Pacific American Law Students Association Alumnus of the Year, UCLA School of Law (2013)​
Public Service Award, South Asian Network (2010)​
Certificate of appreciation for protecting victims' rights, Los Angeles County Board of Supervisors (2007)