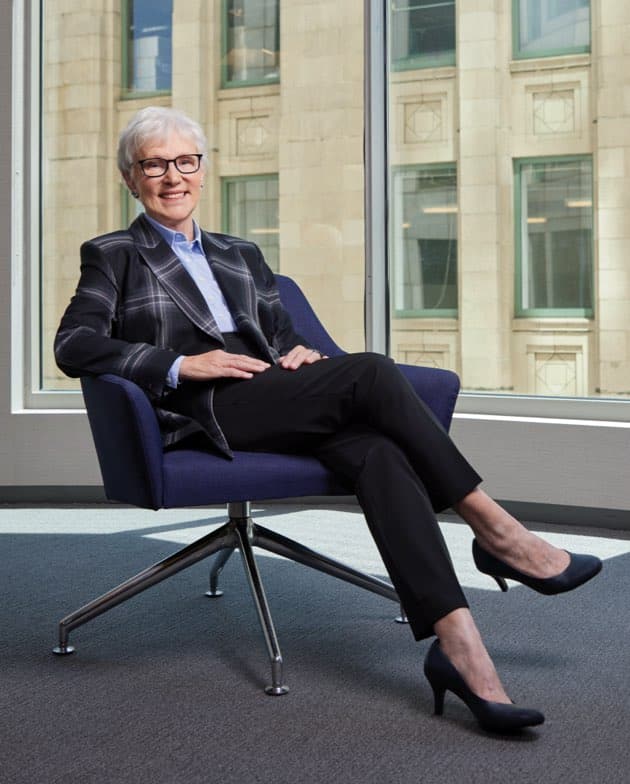 Century City | Los Angeles | Oakland | San Diego | Virtual Services
Hon. Amy D. Hogue (Ret.)
Mediator | Arbitrator
"The most fun I had as a judge was collaborating with the attorneys to solve problems and to me mediators are the ultimate problem solvers."
Practice Areas
Anti-SLAPP
Business and Commercial Contracts
Class Action
Complex Case Management and Discovery Mediations​
Construction
Corporations and Partnerships
Defamation
Employment
Entertainment
Environmental
Healthcare
Insurance
Intellectual Property
Invasion of Privacy
Landlord/Tenant
Mass Tort
PAGA
Product Liability
Professional Malpractice
Real Estate
Securities
Sexual Assault Claims
Title IX
Wage & Hour
Education
J.D., Duke University School of Law with Honors (

Duke Law Journal

) 

​

Pepperdine University, Strauss Institute for Dispute Resolution,

Mediating the Litigated Case

Graduate Fellow, Harvard University, Kennedy School of Government

​

M.Phil., Cambridge University, England (Fulbright Scholar)

​

A.B., Duke University 

summa cum laude

, Phi Beta Kappa, with 

distinction in English 
Biography
Hon. Amy D. Hogue (Ret.) is a distinguished former complex court jurist known for her practical approach, friendly demeanor, and insightful written decisions. She had extensive experience as a private mediator prior to her judicial appointment and routinely settled cases throughout her judicial career.
Before her elevation to the bench, Judge Hogue spent 23 years at the same law firm: 12 years as an equity partner at what is now known as Pillsbury Winthrop Shaw Pittman LLP and 11 years at Lillick & McHose. At Pillsbury, Judge Hogue was Co-Chair of the Intellectual Property Group in Los Angeles.
In her last few years at Pillsbury, Judge Hogue developed a passion for working as a private mediator, successfully mediating settlements in at least 40 business, employment, personal injury, and copyright infringement cases. In her 20 years on the bench, Judge Hogue spent seven years in a complex civil litigation court, two years in writs and receivers, six months on assignment in Division Three of the Second Appellate District, two years as Assistant Supervising Judge of Civil, and several years in a general jurisdiction civil court.
In private practice, Judge Hogue was lead counsel in numerous jury trials, bench trials, and arbitrations, representing both plaintiffs and defendants. She also argued multiple cases in the California Courts of Appeals, the California Supreme Court, and the Ninth Circuit. Judge Hogue prosecuted and defended a wide variety of commercial cases involving contracts, frauds, lender liability, intellectual property, real estate, partnerships, and corporate governance disputes for clients in the banking, real estate, manufacturing, advertising, and media business. She also prosecuted wrongful-termination actions for high-level executives and defended numerous employment cases.
As a practicing attorney, Judge Hogue defended television networks and publishers in scores of defamation, right of publicity, and invasion-of-privacy actions. She handled copyright infringement cases involving motion pictures (Raiders of the Lost Ark, Reds, Jaws), television shows (All in the Family, The Bob Newhart Show), characters (James Bond, Teenage Mutant Ninja Turtles), and a television theme song. As described by The Atlantic Monthly, Judge Hogue was "famous in the California Bar for a delicate cross-examination of the Wheel of Fortune letter-turner and celebrity Vanna White." (Tabloid Law, The Atlantic).
On the bench, Judge Hogue handled a wide variety of complex and coordinated cases. Recently, she spearheaded the Court's adoption of three model wage and hour settlement agreements which are now available to attorneys on the Los Angeles Superior Court's website: a class action settlement agreement and class notice, a class action/PAGA settlement agreement, and a PAGA settlement agreement. Judge Hogue drafted the model agreements and Co-chaired the 2022 Ad Hoc Wage and Hour Committee of 16 plaintiff and defense practitioners, which approved the drafts with minor changes. The model agreements are designed to streamline the Court's settlement approval process and benefit the attorneys by simplifying negotiations, reducing wordsmithing, and clarifying what the Court needs to see in order to grant approval.
The Chief Justice appointed Judge Hogue to the Judicial Council's Advisory Committee on Civil Jury Instructions Judicial Council CACI committee. She chaired the Los Angeles Superior Court's Media Committee for 15 years and served on its Judicial Education Civil Subcommittee, teaching more than 50 courses to judges and attorneys on diverse topics including Anti-SLAPP, class actions, employment, PAGA, judicial leadership, product liability, torts, evidence, media, expert witnesses, misclassification of employees, discovery, motions, and jury selection.
Judge Hogue has expertise in an array of practice areas including:
Class Actions
As a complex litigation judge, Judge Hogue managed thousands of class actions including consumer cases involving a range of products, from kombucha to life insurance. Her approach to class actions was to use informal conferences to actively facilitate approvals of settlements and help the attorneys agree on settlement terms acceptable to the Court.
Concierge Case Management and Discovery Mediations
As a complex litigation judge, Judge Hogue offered "concierge" service, always available on short notice to assist the parties' navigation through difficult discovery and case management issues. Judge Hogue routinely used informal conferences to help the parties formulate multi-phase case management plans, avoid unnecessary motion practice, and resolve discovery disputes. As a private mediator, Judge Hogue offers the same services on a retainer basis, appointed by stipulation of the parties under Code of Civil Procedure section 638.
Construction, Real Estate Disputes, and Landlord/Tenant
Judge Hogue managed construction disputes and construction defect cases such as Wilshire Vermont Housing Partners, LP v. Taisei Construction Corporation BC504178. She has also handled disputes involving landlords and tenants, neighbors, and title to real property.
Defamation, Invasion of Privacy, Rights of Publicity, and Anti-SLAPP
Judge Hogue is a recognized expert on defamation, rights of publicity, and invasion-of-privacy actions, having handled scores of these cases in private practice, many involving celebrities. Judge Hogue has shared her expertise by teaching at least a dozen courses on Anti-SLAPP to judges and attorneys and authoring a published appellate decision addressing the scope of discovery for an Anti-SLAPP motion against an anonymous plaintiff, John Doe 2 v. Superior Court (2016) 1 Cal.App.5th 1300.
Based on extensive experience in Anti-SLAPP motions before and after her appointment to the bench, Judge Hogue offers mediation services to parties litigating Anti-SLAPP motions and early neutral evaluation services to plaintiffs concerned about the risk of triggering an Anti-SLAPP motion or defendants considering whether to file an Anti-SLAPP motion.
Employment
In private practice, Judge Hogue prosecuted and defended employee claims of discrimination and wrongful termination. As an independent calendar judge, she presided over scores of employment disputes and settled many of them as a voluntary or mandatory settlement judge.
Environmental
Judge Hogue presided over various cases alleging personal injuries allegedly caused by chemical and petroleum contamination of air, soil, and water against companies such as Exxon (tank farm leakage) and Monsanto (environmental contamination from PCBs used to insulate electrical transformers).
In the complex litigation court and as a writs and receivers judge, Judge Hogue analyzed and decided CEQA and Coastal Act matters including a much-publicized claim of harassment and "localism" allegedly perpetrated by surfers at Lunada Bay (Spencer v. Lunada Bay Boys BC629596).
Healthcare
As a complex litigation judge, Judge Hogue gained experience in healthcare industry disputes such as healthcare provider claims against HMOs for reimbursement of charges, bad faith actions against healthcare insurers, and consumer class actions against residential care providers.
Insurance and Bad Faith
Judge Hogue has experience adjudicating complicated multi-level insurance coverage disputes. For example, Judge Hogue issued lengthy opinions interpreting the language of primary, excess, and umbrella policies in complex cases such as Riddell v. Ace American Insurance Co. BC482698 (helmet manufacturer's coverage case for defense and indemnity of NFL football players' head injuries) and Montrose Chemical Corporation v. Canadian Universal Insurance Co. BC005158 (chemical company's coverage action for DDT contamination).  She has also presided over class actions involving life insurance and challenges to insurance rate increases.
Intellectual Property and Entertainment
Judge Hogue adjudicated high-profile entertainment industry matters including a bench trial adjudicating rights to the motion picture 300 (Nunnari v. Cecchi Gori, BC390245) and a dispute over royalties owed to the creators of the television show, Home Improvement (Wind Dancer Production Group v. Walt Disney Pictures BC501953). Her private practice included copyright infringement, rights of publicity, and other intellectual property disputes in the entertainment, advertising, and publishing industries.
Professional Malpractice
Judge Hogue has experience presiding over medical malpractice trials and adjudicated physicians' petitions for writs of mandate against the Medical Board. She has similar experience with legal malpractice actions and has adjudicated complex issues of attorney-client privilege in legal malpractice actions where the client relationship was disputed.
Product Liability, Mass Torts, and Sexual Assault Claims
Judge Hogue oversaw numerous jury trials involving personal injuries and allegedly defective products such as asbestos, medical implants, and chemicals. In 2022, Judge Hogue approved the admission, under Sargon Enterprises, Inc. v. University of Southern California, of the plaintiff's expert general causation opinion in a high-profile action alleging that heavy metals in baby foods caused the plaintiff's autism and ADHD. In an action accusing Edison of exposing a neighborhood of homeowners to stray electricity, Judge Hogue excluded the expert testimony under Sargon.
Judge Hogue also presided over sexual abuse cases including hundreds of actions against a UCLA gynecologist, and presided over a jury trial involving one of many victims of a Sears employee's surreptitious videotaping of women's restrooms and changing rooms.
On assignment at the Court of Appeal, Judge Hogue authored a published appellate decision affirming a $14 million judgment against a West Hollywood nightclub and finding, as a matter of law, that security officers on the premises owed a duty of reasonable care to prevent the sexual assault of a patron in a restroom. (Janice H. v. 696 N. Robertson, LLC (2016) 1 Cal.App.5th 586).
Securities, Corporate Governance, and Partnership Disputes
In private practice and on the bench, Judge Hogue obtained experience in securities class action cases, corporate governance, and partnership disputes.
Wage and Hour Class Actions and PAGA
Judge Hogue has approved settlements of thousands of employment class actions, including the contested $100 million settlement in Marko v. DoorDash (BC659841). Judge Hogue was the driving force behind the Superior Court's 2022 adoption of three model wage and hour settlement agreements and model class notices. After authoring these agreements, Judge Hogue invited 16 experienced plaintiff and defense practitioners to vet and comment on them as members of an Ad Hoc Wage and Hour Committee. With minor changes, the Committee approved the three model settlement agreements which are now posted on the Superior Court website.
Title Nine
As a writs and receivers judge, Judge Hogue presided over several challenges to academic expulsions for sexual misconduct, such as a Trojan kicker's effort to overturn his expulsion from the University of Southern California for domestic violence, Burmeister v. Carry et al. BS170473, currently before California Supreme Court.
Experience
Judge

,

Los Angeles Superior Court (2002–2022)

​

Instructor

, UCLA Law School Leadership (fall term 2007)
​

Private Mediator 

(1998-2002)

Co-Chair

,

Intellectual Property Group in Los Angeles (1996-2002)

Equity Partner

, 

Pillsbury Winthrop/

Lillick

 & 

McHose

 (1986–2002)

Associate Attorney

, 

Lillick

 & 

McHose

 (1979-1986)

Appellate Practitioner

,

 California Supreme Court, California Courts 

of Appeals, Ninth Circuit Court (1972-2002)

​
Professional Achievements and Memberships
​​​

Author, model wage and hour settlement agreements 

(class 

action settlement, class action/PAGA settlement, and PAGA 

settlement) for Los Angeles Superior Court's website (2022)

​

Co-Chair

,

 Los Angeles County Superior Court's Ad Hoc Wage and 

Hour Committee (2022)

Member

,

 Judicial Advisory Council for the Association of Business 

Trial Lawyers (ABTL) (2018-2022)

Trial Judge Representative

, 

Judicial Council Advisory Committee on 

Civil Jury Instructions (CACI) (2018-2022)

​

Member

, 

Los Angeles County Superior Court's Judicial Education Civil 

Subcommittee (2014-2022)

Chair

, 

Los Angeles Superior Court's Media Committee (2007-2022)

Editorial Board

,

 

Duke Law Journal 

(1978-1979)

Recipient

, 

Fulbright Scholarship to the United Kingdom (1975-1976)

​
Judge Hogue speaks conversational Spanish