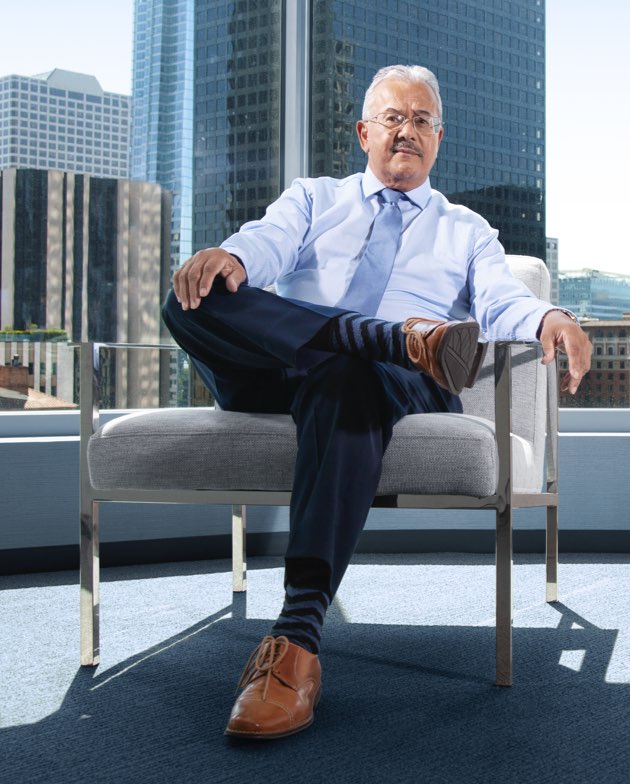 Century City | Los Angeles | Virtual Services
Hon. Abraham Khan (Ret.)
Mediator | Arbitrator
"I believe I am extremely effective when it comes to evaluating the economics of a case. My patience and calm demeanor allow me to provide insightful advice to help parties reach a resolution."
Practice Areas
Business and Commercial Contracts
Civil Rights
Construction Defect
Elder Abuse
Employment
Environmental and CEQA
Fraud
General Liabilities & Malpractice
Habitability
Insurance
Inverse Condemnation
Landlord/Tenant
Legal Malpractice
Medical Malpractice
Personal Injury
Product Liability
Professional Malpractice
Real Estate
Sexual Assault Claims
Sexual Harassment
Tort Disputes
Trust & Estates
Wage & Hour
Wrongful Termination
Education
J.D., Southwestern University School of Law
B.B.A., Loyola University
Mediating the Litigated Case, Strauss Institute of Mediation, Pepperdine University
Economics and Accounting for Judges, Northwestern University
Economics for Judges, George Mason University
Biography
After more than 30 years on the Los Angeles Superior and Municipal Courts, Hon. Abraham Khan (Ret.) joined Signature Resolution as a mediator and arbitrator. He focuses on resolving matters related to business and commercial contracts, employment, real estate, entertainment industry, landlord/tenant, eminent domain, civil rights, and personal injury disputes. 
 
For the past six years, he served as a full-time settlement Judge with more than 1,000 general– jurisdiction cases settled. He has been a member of the Los Angeles Superior Court's Arbitration/Alternate Dispute Resolution Committee for more than 10 years, and today serves as vice-chair of the committee. He is devoted to legal and judicial education and has lectured and written extensively on judicial settlements. 
 
Prior to his appointment to the bench, Judge Khan served as a Special Prosecutor in the Major Fraud Division of the Los Angeles District Attorney's Office, where he prosecuted complex real estate, commercial and industrial fraud, Medi-Cal, welfare, and embezzlement cases. As a former Special Prosecutor in the Los Angeles City Attorney's Office, he prosecuted slumlords and worked in the Rent Stabilization and Slum Housing Division. At the time, he held the distinction of successfully prosecuting the longest slumlord trial in the history of Los Angeles. Also prior to his service as a full-time settlement judge, he served as judge in the Civil Division, effectively managing an Independent Calendar Court in both the Pomona and Stanley Mosk Courthouses for many years. 
 
As a former Los Angeles Deputy Public Defender, Judge Khan tried dozens of serious cases, gaining valuable trial experience, while often winning hopeless cases. He began his professional career as an accountant, where he administered and oversaw millions of dollars of federal funds as a Contracts Administrator and Grants Coordinator for the City of Los Angeles. 
 
Judge Khan has extensive trial experience, including trying hundreds of cases as an attorney and overseeing them as a judge. Attorneys describe Judge Khan as extremely effective when it comes to evaluating the economics of a case. His tenure on the bench, along with his deep background, allows him to provide insightful advice that helps parties reach a resolution. 
 
Judge Khan is fluent in both English and Spanish. He has received numerous awards for community service and continues to serve the legal community with honor, dedication, and distinction. 
Experience
Judge, Los Angeles Superior Court (2000–2020)
Judge, Los Angeles Municipal Court (1995–2000)
Commissioner, Los Angeles Municipal Court (1993–1994)
Assistant and Presiding Judge, Citrus Municipal Court (1991–1993)
Judge, Citrus Municipal Court (1988–1993)
Deputy City Attorney, Los Angeles (1986–1988)
Deputy District Attorney, Los Angeles (1983–1986)
Deputy Public Defender, Los Angeles (1980–1983)
City Contracts Administrator & Grants Coordinator, Los Angeles (1972–1980)
Accountant (1972)
Professional Achievements and Memberships
Member, ABTL Judicial Advisory Council (2019–2020)
VP and Trustee, Los Angeles County Law Library (2002–2010)
Board of Visitors, LaVerne Law School (2008–2010)
Board Member, California Judges Foundation (2006–2008)
New Judge Orientation Instructor, Judicial Councils Continuing Judicial Education and Research Division (2004–2010)
Board Member, California Judges Association (2003–2005)
Member, Continuing Judicial Studies Program Committee (2003–2006)
Founding Member, California Latino(a) Judges Association
California Asian Judges Association